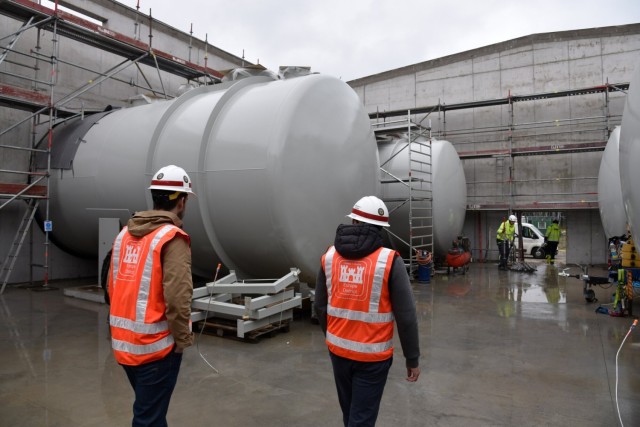 Much of the U.S. Army Corps of Engineers Europe District, or MILCON, military construction program focuses on U.S. Army installations in Europe – But the Army also supports U.S. Air Forces in Europe with an extensive construction program. design and construction.
"We are proud to support our USAF partners in Europe by managing MILCON projects for their stakeholders," said Jennifer Regel, District Europe Regional Program Manager for the Air Force's Military Design and Build Program. 'Air Force. "Our supported Air Force MILCON program includes projects such as dormitories, operational facilities, quality of life initiatives, gymnasiums, office buildings and aircraft hangars."
Many of these projects are centered around the military community of Kaiserslautern in Germany, which includes Ramstein Air Base, Vogelweh Air Base, and other locations.
Officials from the U.S. Army Corps of Engineers recently joined U.S. Air Force officials and others to celebrate the grand opening of the new military family housing management facility being construction at Vogelweh Air Base. When complete, the new facility will function as the primary hub for managing military family housing throughout KMC for Airmen and other personnel stationed there.
"Partnering with the U.S. Army Corps of Engineers provides facilities, like the Military Family Housing Management Facility, that reinforce the Air Force's commitment to the quality of life of our Airmen and their families," said Brig. Gen. Josh Olson, former commander of the 86th Airlift Wing. "However, it goes beyond that. We also partner with operational and training facilities that
support our ability to accelerate global mobility and air power
Europe and Africa."
Regel said that in addition to MILCON's sustained work at traditional European sites, the district's support for the Air Force has expanded significantly in recent years, to include projects at new sites and respond to DoD's overall changing mission priorities. The district now manages approximately $1 billion in European Air Force Deterrence Initiative, EDI, design and construction projects, in addition to sustained labor.
The specific objective of the EDI program is to increase the capacity of partners and allies in the region.
This work spans multiple countries, where the U.S. Air Force partners with host nation forces to support security in Europe – with heavy workloads in Romania, Bulgaria, Poland and the Baltic states of Estonia, from Lithuania and Latvia. The district also helps the Air Force develop new country agreements and plan, design, and build infrastructure in other countries.
Through the EDI program, military infrastructure is built to strengthen the U.S. deterrence posture, increase the readiness and responsiveness of U.S. forces in Europe, support the collective defense and security of NATO allies, and enhance the security and capability American allies and partners. Typical examples would be runway and airfield improvements, basic infrastructure, operations facilities and more.
Another recent Air Force initiative supported by the district focuses on energy conservation and building energy security through the Energy Conservation Investment Program. ECIP projects for the Air Force generally aim to conserve energy and water, reduce energy costs, and reduce reliance on outside energy sources. For example, crews are currently working on improvements to the energy management control system at Spangdahlem Air Base in Germany.
Regel said she finds working in Europe in support of USAFE and its programs both professionally and personally rewarding.
"Running projects overseas in new locations, even if you've handled similar ones in the United States before, is a double challenge. I like to learn more about the mission and then use that information to formulate the best overall execution strategy," she said. "Playing a role in important Air Force missions here in Europe and Africa is also very exciting and rewarding."
The Europe District operates many other MILCON and non-MILCON, funded by other entities, which also support USAFE missions, their Airmen and their families. For example, the district has supported the design and construction of several Department of Defense-funded elementary, middle, and high schools on Air Force bases over the past five years. The Defense Commissioners Agency funded district-run commissioners and upgrades. The Defense Logistics Agency funded pipelines, hydrants, and other district-run infrastructure works. In conjunction with the Defense Health Agency, the district is leading the construction of medical clinics, dental clinics, renovations, and the new major hospital being built in the military community of Kaiserslautern.