By Michele Karlsberg–
Michele Karlsberg: Gary Eldon Peter celebrates this month the publication of Carl Paulsen's Complicated Calculus (and Cows), a children's novel. It is about a gay teenager living on a small, struggling Minnesota dairy farm. He thinks he has met the boy of his dreams, but the relationship turns out to be much more complicated than he thinks. He also deals with the potential loss of the farm, which was passed down through his late mother's family, and the conflicts he has with his father over what to do about it. I recently spoke with Peter for the San Francisco Bay Times about his new book and more.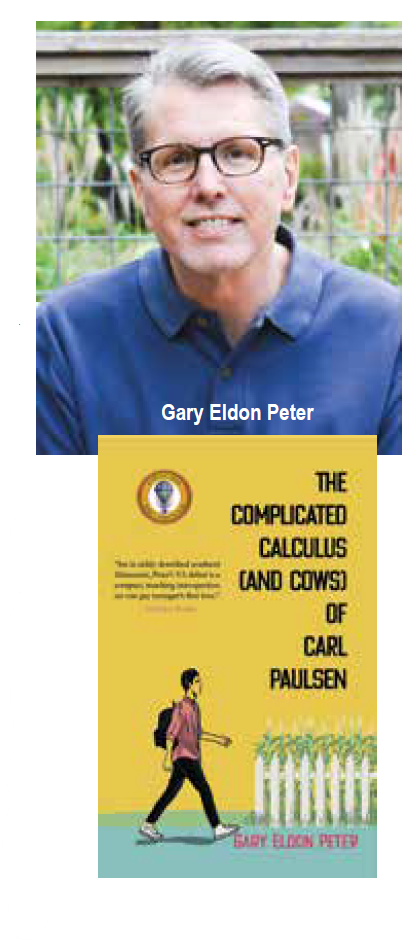 Michele Karlsberg: Young adult books tend to be popular among adult readers. Why do you think that is?
Gary Eldon Peter: I'm aware of the phrase that YA books are about young adults, but aren't necessarily exclusively "for" young adults. I think a big part of the reason for that may be because adult readers enjoy seeing their teenage experiences and selves reflected in literature that probably wasn't available when they were younger. I think this is especially true for older LGBTQ+ readers like me. Growing up, there were no YA books that described what it was like to be a gay teenager and the many challenges that come with it. As I wrote the novel, I often thought about what it would have been like if my own book had been there for me, and how that might have made me feel better about who I was and what I was with. what I was struggling with. That was really a big part of my motivation for writing it in the first place.
Michele Karlsberg: What do you hope readers will take away from reading your book?
Gary Eldon Peter: It's pretty basic, but LGBTQ+ people are everywhere, in every community. Additionally, acceptance and understanding of LGBTQ+ people who do not live in urban settings can still be a challenge, despite the significant progress we have made. I hope readers of all ages, but especially LGBTQ+ children, will enjoy having their story told, feel "seen," and know they are not alone.
Michele Karlsberg: You are a fiction writer, but have you ever considered writing in other genres?
Gary Eldon Peter: I love reading and listening to poetry, but I can't imagine myself trying to write poetry. I did, however, take a poetry class in college that was more of a study of craftsmanship rather than poetry writing, and I'm so grateful that I did. I gained a great appreciation for image and form and really just the choice of words when trying to convey an idea or a feeling. I think writers can learn a lot from being exposed to other genres that they don't work in. I also really like to read personal essays, and it sounds more like something I could "fork out" more than poetry. Last summer I wrote a ten-page essay for an anthology, and even though it took me two months to finish and it was really challenging, in the end it's something that I really appreciated. Because of that, I wouldn't mind trying to write more essays.
Gary Eldon Peter is the author of two works of fiction: "Oranges", a collection of related short stories, and the novel "The Complicated Calculus (and Cows) of Carl Paulsen", winner of the Acheven Book Prize for Young Fiction adults. "Oranges" received the Gold Medal for LGBT+ Fiction at the Independent Publisher Book Awards, the Midwest Book Award, and was a finalist for the Minnesota Book Award and the Flannery O'Connor Award for Short Fiction. Peter's work has appeared in numerous literary journals and has been featured on the public radio show 'Selected Shorts'. He received a master's degree in creative writing from Sarah Lawrence College and is a faculty member at the University of Minnesota. For more information: https://www.garyeldonpeter.com
Michele Karlsberg Marketing and Management specializes in advertising for the LGBTQ+ community. This year, Karlsberg celebrates 33 years of successful marketing campaigns. For more information: https://www.michelekarlsberg.com
Posted on July 28, 2022