The Colomboscope, a contemporary art festival and a creative platform for interdisciplinary dialogue, works with many artists, writers, musicians, filmmakers, social theorists and scientific researchers from Sri Lanka and around the world.
The 2022 festival, from January 21 to 30, unveils the different facets of the language through multiple modes – belonging, diasporic lineages, dislocation, nationality, people, words and more – through its theme "Language is a migrant", in the following places:
Colombo Public Library
Founded in July 1925, Colombo Public Library was an amalgamation of Colombo Library and Pettah Library. It has a collection of nearly one million books, 57 newspapers and 111 periodical titles in Sinhala, Tamil and English.
International and local collaborators exhibiting on the site will present exhibitions that have evolved through dialogue and sociality to bring to the fore collective pedagogies, body movement and choreography in everyday life, as well as community archives.
Vijitharan Maryathevathas, Jagath Weerasinghe, Rupaneethan Pakkiyarajah, Hanusha Somasundaram, Lavkant Chaudhary, Shailesh BR, We Are From Here, Mariah Lookman, Cecilia Vicuña, Mounira Al Solh, Pangrok Sulap, Liz Fernando, Marinella Chanatore and Packan Ahil Ahil Chanatore, Ahan Ahil Tatars and Rajni Perera will be present on the site. Part of this place is wheelchair accessible.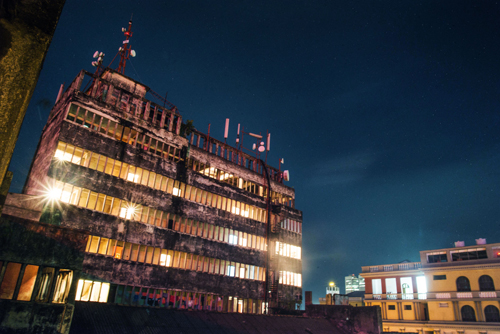 Rio complex
The Rio Cinema opened in 1965 and the Rio Hotel a decade later. Looted and torched by crowds, the Rio complex is a charred monument to the Black July riots in the city.
Mano Prashath, Sundharam Anojan, Thisath Thoradeniya, Danushka Marasinghe, Sharika Navamani, MTF Rukshana, Palash Bhattacharjee, Aziz Hazara, Baaraan Ijlal, Omer Wasim, Pallavi Paul, Elin Már Øyen Vister, and exhibit Pınenci, Abounam complex from Rio.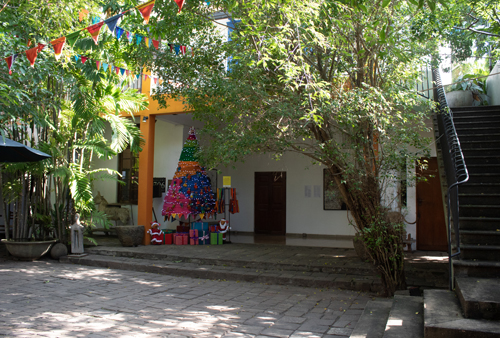 Barefoot Gallery
At the Barefoot Gallery, artists use textiles and collage as mediums to publish visual chronicles. The thread and the pixel replace the pen in the composition of the plots, evoking ambitious fields of movement, desire, handicap and displacement. Works by Areez Katki, T. Vinoja, Hema Shironi and Abdul Halik Azeez are featured on the site. This place is wheelchair accessible.
Lakmahal Community Library
The library's reading room is called Reading in Tongues, borrowing Gloria Anzaldúa's text "Speaking in Tongues: A Letter to 3rd World Women Writers" from the queer chicana poet, writer and feminist theorist.
Reading in Tongues is organized in collaboration with Ishara Art Foundation. Participants include Indran Amirthanayagam, Kadak Collective, Jason Dodge, Dora García, Mythri Jegathesan, kal, Omar Kasmani, Kumari Kumaragamage, Mantiq of the Mantis, Yoshinori Niwa, Christian Nyampeta, The Packet, Packiyanathan Ahilan, SCROLL: Projects on Paper, Mounira Al Solh and Nada Ghosn, Slaves and Tatars, T. Thajendran, Bombay Underground, Cecilia Vicuña, Omer Wasim and Belinda Zhawi.
This place is wheelchair accessible.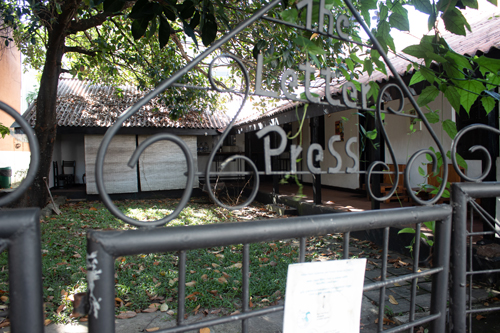 WA Silva Museum
The WA Silva Museum and Printing House run by the Akuru Collective is the former home of the bestselling Sinhala literary writer, WA Silva. It features full traditional typography and a collection of wood and metal types. Home to the Sri Lanka Institute of Typography, it also has an archive of 19th century books, ephemera and printed resources.
Here, artistic presentations by T. Krishnapriya, Imaad Majeed, Saskia Pintelon and Jason Dodge include site-specific works in dialogue with the transformative role of print culture. Part of this location in Wellawatte is wheelchair accessible.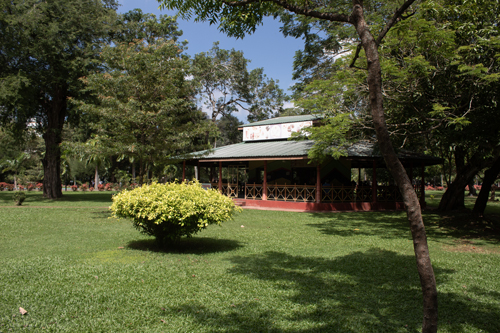 Lake cafe
Lak Café is the open-air café in Viharamahadevi Park where each evening of the festival will be held the Hearing Voices Café, a project with a series of conversations, shared recitation acts and performances. The public is invited to engage and respond to these and contribute to a journal that stretches throughout the festival.
Dora García with Jayampathi Guruge figures in this place. Events include community storytelling, conversations with writers, academics and artists, open mics and more. The place is wheelchair accessible.
Pix courtesy Colomboscope